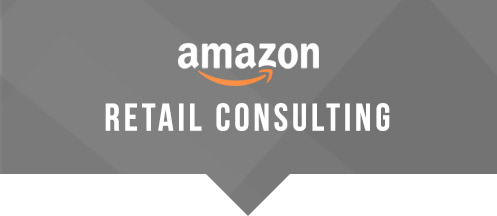 If you are an ecommerce owner or looking to expand into the Amazon channel, we can help. Our extensive knowledge both with Google and Amazon has allowed us to consult with many brands and businesses looking to expand into the biggest search engine for buyers. Whether you want to sell as a merchant or send your inventory to Amazon's fulfillment centers, we are capable of boosting your product sales.  Our services include the following:

FBA Fulfillment Consulting – We've seen companies that sell via Amazon FBA (Fulfilled by Amazon) versus Merchant Fulfilled see at minimum a 40% increase in volume and sales.  We work with companies that need FBA assistance.
Amazon Keyword Research – It's not enough to throw up your product on Amazon and hope it sells.  You need to perform extensive keyword so you're ranking on the first page of Amazon for multiple keywords, not just your brand or one keyword.  Our agency knowledge will allow us to locate those golden nuggets that are most relevant to your brand and enable your to sell more organically on Amazon.
Data Mining & Ecommerce Metrics – Want to get a better sense of what's working and what's not working?  What keywords are you ranking for?  Are you achieving a reasonable ROI?  What do your cost breakdowns look like via Amazon?  We can assist with the proper reporting so you see how well your products are doing across Amazon's platform.
Amazon SEO & Ranking Your Products – Similar to SEO in world of Google, Amazon is simply another search engine for buyers.  Our extensive knowledge on Amazon SEO and our understanding on Amazon's ranking factors, we will ensure you are ranking well on Amazon and getting as man page views and sessions that's possible.
Product Promotion Management – We know that promoting products and doing product giveaways are part of the ecommerce selling process.  However, we see many sellers make mistakes in this area.  We can ensure you avoid these mistakes and put yourself in the right position to sell well on Amazon.
Getting Reviews For Your Products – Reviews is the holy grail on Amazon.  More "good" reviews translates into more sales and better conversion rates.  There are many ways to generate reviews and we know how to do it in a way that will both boost your rankings and generate 4 – 5 star reviews for your products.
Getting Into Gated Categories – There are many gated categories including clothing and health/personal care.  We know what's required to get your products into gated categories so you're able to sell on Amazon.
International Expansion Markets – Every had an interest in expanding in Japan, or England, or Germany.  Amazon FBA makes that entire process possible.  Our global amazon selling experience will enable those who are interested to expand existing products into global markets.
Copywriting & Listing Optimization – As an existing Amazon seller, we see many listings and know what works from a sales perspective.  We're capable of executing the proper copywriting and optimizing your listing so you're able to maximize the total number of keywords you should rank for and enabling your listing to maximize the conversions.
Amazon LaunchPad (Hidden Gem) – Are you a startup in need of some additional assistance launching and growing on Amazon?  Amazon LaunchPad is unlike any other program they offer.  Unique benefits include adding video's to your listing, gaining access to the 1,000's of Amazon Vine Reviewers, adding branded content to your description pages, and much more.  We manage this process successfully for Shark Tank companies and product based startups.
Amazon PPC Advertising – Do you want to show up for your primary money terms on Amazon on Day 1?  Amazon Sponsored Ads allows advertisers to accomplish this.  We manage many campaigns and are capable of achieving a strong return on Ad Spend better than 30% in many cases.
In addition to the clients we service, we also own and manage our own brands, so you know we're serious and have an acute understand of what's required to sell well and consistently on
Amazon SEO
with
Amazon Seller Tools
.  If you have a product and are  brand looking to branch out into Amazon, feel free to contact us via email at
info@que-commerce.com
or call us at
(201) 600-3366
.
Request 30 Minute Consultation
Amazon Seller Consulting
November 30, 2016